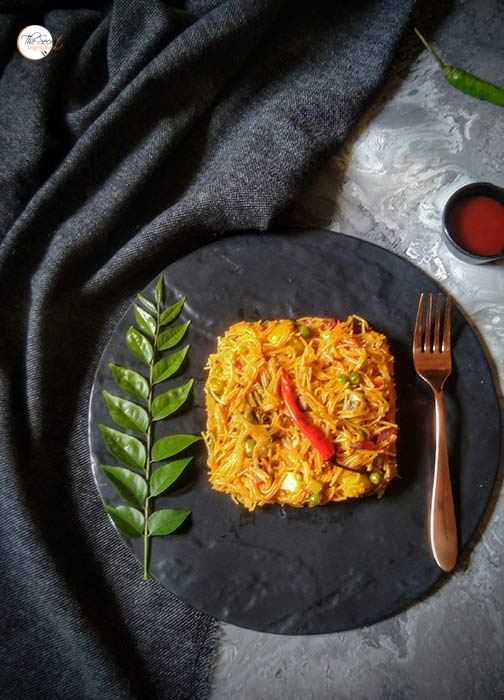 Vermicelli Seviyan Upma is a healthy and quick breakfast option which is loved by all. To make a new breakfast recipe every day is a constant struggle. The bigger concern is to have a healthy meal for a healthier start to the day. Coming from a Punjabi Family where breakfast largely revolves around stuffed Parantha cannot be considered healthy for every morning. So I started making this quick vermicelli with veggies and soya granules. Vermicelli is nothing but broken thinned wheat pasta, known as Sevai or Seviyan in Hindi and Fideo Pasta in Spanish Nowadays you get roasted Vermicelli in market which further cuts down the cooking time and uses less oil.

Also if you are a bachelor or working women you can buy a pack of frozen chopped vegetables and dump it in your freezer for making your life convenient. But nothing compares to the taste and freshness of fresh vegetables. Anyways, the choice is yours.
Directions:
1. Finely chop Capsicum, Onions, Green Beans and Carrots.Take lukewarm water in a bowl and put frozen corns to thaw. Keep aside.
2. In a pan or wok pour some oil and add Mustard Seeds. When they start to splutter add Cumin seeds.
3. Put chopped onions and saute them till they start sweating.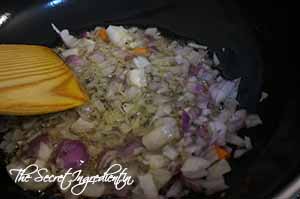 4. Add Kaddi Patta.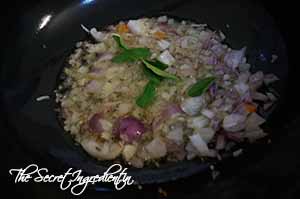 5. Add capsicum, green beans and carrots and cook for 5 minutes or till you see they loose their firmness.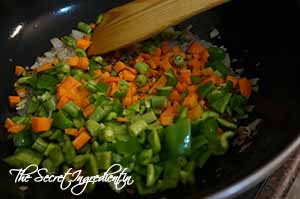 6. Drain water from the corns and put them along with the vegetables to cook.

7. Add salt, turmeric and red chili powder.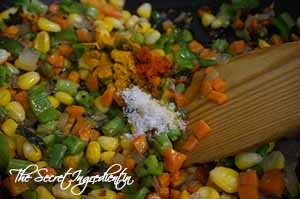 8. Add water and cover with a lid and cook on medium low flame for 5 minutes till the vegetables become tender.
9. Add vermicelli and Soya granules.
10. Mix everything together and add water.
11. Cover with a lid and let it cook on low flame till the water is absorbed.
12. Fluff it up and Serve hot with tomato ketchup.
Other Breakfast recipes you can try : Italian Frittata with Mushrooms and Spinach, Fried Egg Over Polenta with Homemade Basil Pesto, Blueberry Buttermilk Pan Cakes, Apple & Cinnamon Pan Cakes, Shakshouka, Shahi Poha.
[yumprint-recipe id='36'] Sending this post to: