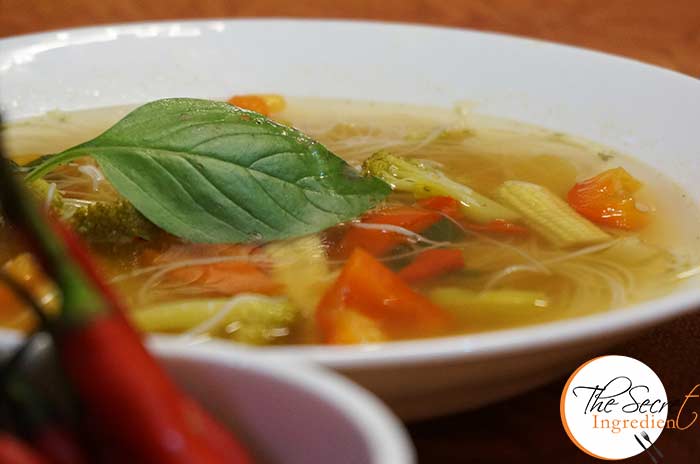 I have always been fond of clear soups. They are flavourful, light and don't make you feel overly full. One day I was surfing on web to look for some delicious clear soup options. I was spell bound by the description of Thai Tom Yum Soup. It was spicy, sour and loaded with veggies. I planned to give it a try as I had lemongrass growing in my kitchen garden and galangal I had just got from my recent Delhi trip. I wanted to make a vegetarian version of this without shrimps. There are so many variations available. This is without coconut milk and tomatoes. Also I haven't used any Thai Red Curry Paste.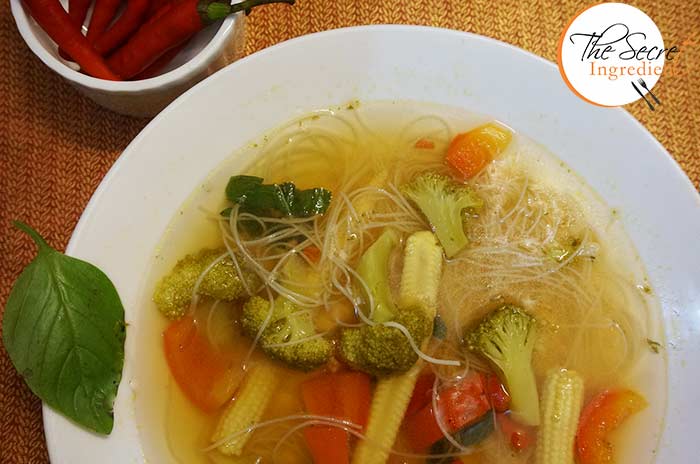 Tom Yum soup was followed by Thai Red Curry and Sticky rice in main course. That night's dinner was unforgetful. I am still recovering from the blast of flavours I had in my mouth. If you have never tried this soup before I would say go for it. Its a weight watcher's haven.
Directions:
1. Chop lemongrass into small pieces. Last three inch you can trim and discard.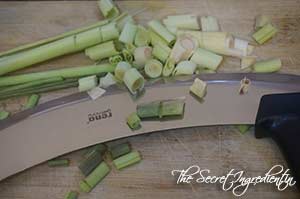 2. Peel off Galangal root and roughly cut into pieces.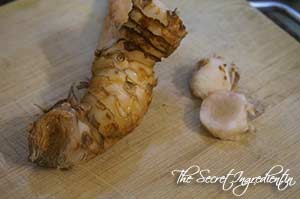 3. Put both chopped lemongrass and galangal in a mortar and crush it with a pestle. You want it to release its juices.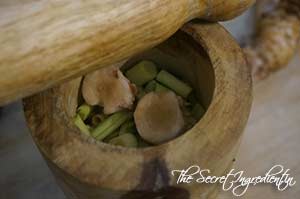 4. Bring water to a boil in a dutch oven or any pot. Add crushed lemongrass and galangal.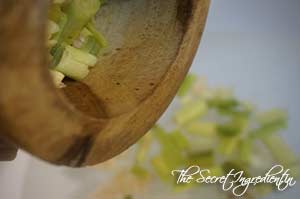 5. Let the water boil further along with lemongrass and galangal. Reduce heat to low and simmer 15 minutes. Remove galangal and lemongrass.
6. Chop some veggies . I used Baby corn, Broccoli, Red & yellow bell pepper and mushrooms.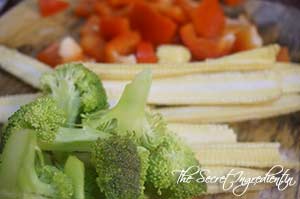 7. Add them to the pot of aromatic water. Put the lid on. Boil them till the vegetables are tender.
8. Add Fish sauce. If you are a vegetarian skip this altogether.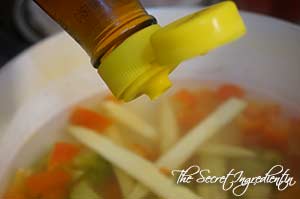 9. Add Soy Sauce.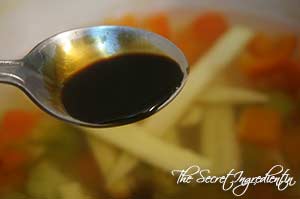 10. Squeeze in a juice of lemon. Season with salt and also add sugar to balance the acidity.
11. Add chopped red chilli .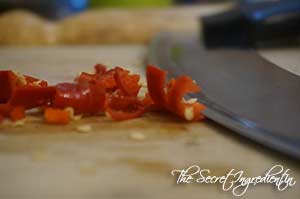 12. Add Rice Noodles and give the soup a boil.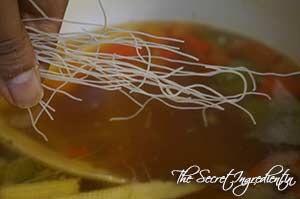 13. Garnish with torn basil leaves and chopped coriander leaves.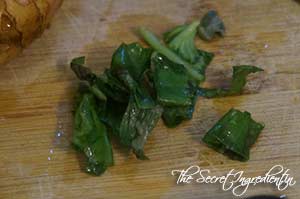 Serve hot and enjoy the freshness of flavours.
Other International Cuisines you can try here are: Italian Frittata, Chinese Steamed Baos with Custard Filling, Mexican Black Bean Salad with Mangoes, Argentine Chimichurri.
If you are looking for more healthy soups : Russian Beetroot & Vegetable Soup , Zucchini Garlic Soup with Yak Cheese Shreddings, Classic French Potato Leek Soup , Chicken Soup With Rice, Tomato Soup, Soup of Red Kidney Beans.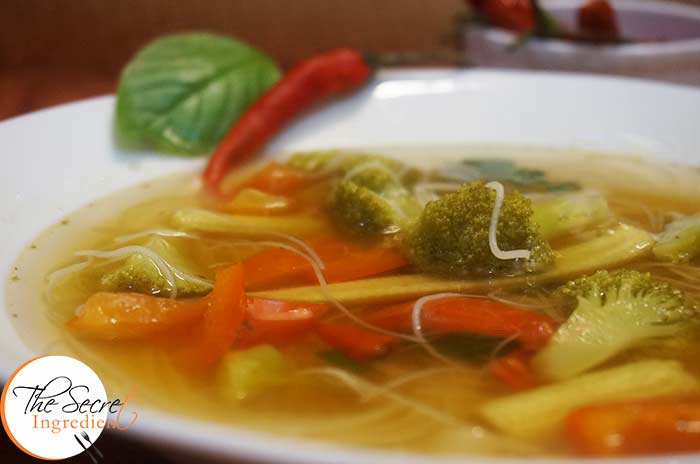 [whohit]TomYumVeg[/whohit]
[yumprint-recipe id='174′]