This Rava Pizza Bread is my husband's favorite breakfast. Even I don't mind making for him because it is fast and is ready in no time. Also it is healthy and very filling. It is even great for fussy kids. I came across this recipe years ago when I just started experimenting with food. But even with years this recipe has always saved me when I was running out of time in the morning not because of any other reason but simply I was too lazy to get out of bed 😛 Yeah I am not a morning person so, such recipes are always my sought out breakfast recipes. Before I brag more tales of laziness I want you to note this recipe.
Directions:
1.In a mixing bowl mix onions capsicum and tomatoes along with yogurt and sooji.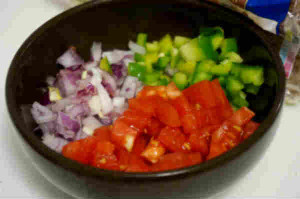 2. Mix well till it forms a thick paste. You can add more yogurt if you feel the mixture is very thick but it should not be liquid.Add Salt and Pepper to this paste and set aside for 5 minutes for sooji to absorb yogurt.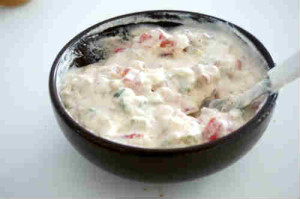 3. In a nonstick flat pan pour two tbsp oil to cover the surface and place two bread slices next to each other. Make sure your gas flame is on low otherwise the lower side of bread will become over toasted.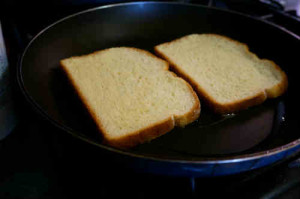 4.Take the spoonful of paste and spread over each bread as a thin layer. Do not make the layer thick for it will not cook evenly and wont taste good.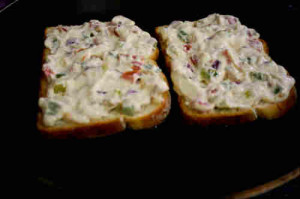 5. Drizzle little oil over the thin layer of paste and turn the bread upside down with the paste side facing down. Now you can turn the gas flame on high.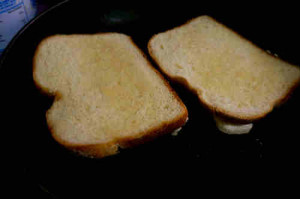 6. Cook for about 3-4 minutes and then carefully turn it upside down. If the bread topping is properly cooked and settled it will come out easily without sticking to the pan. If you feel its still sticky give it couple of minutes to cook and then try turning it again.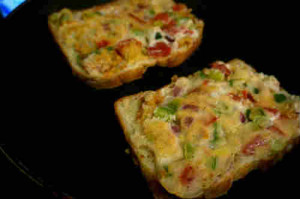 7. Place them on the serving plate and sprinkle on top some chili flakes and oregano.
8. Repeat the above with the other bread slices.
You can enjoy other hearty breakfast recipes on The Secret Ingredient: Quick Rava Idli, Mexican Style Casserole Eggs, Wrapped French Toast, Soya Veggie Vermicelli, Shahi Poha, Italian Frittata, Eggless Walnut Pancake, Apple Cinnamon Pancakes, Buttermilk Blueberry Pancakes.
[yumprint-recipe id='27']
[whohit]pizza-bread[/whohit]