When apples are in abundance you look haywire for some interesting apple recipes. This is in continuation to my post of Apple Cinnamon Pancakes. I made this very delicious cake with streusel or crumple topping. It gives this bread such an amazing texture. The bread has a lovely flavour of fresh apples and raisins. You can have a slice with your warm cup of Coffee or tea. Its perfect when you invite some friends over for an evening tea or serve it for dessert at dinner table with a scoop of Vanilla Ice cream.
Directions:
1. In a bowl combine All Purpose Flour, Cinnamon Powder,baking powder and Salt.
2. In a small bowl add raisins and 1/4 cup of Flour mix and toss them together. Set aside.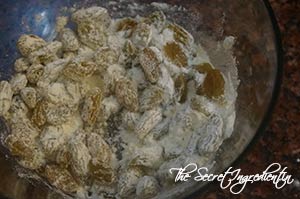 3. In another bowl add milk and eggs.

4. Add Vanilla Extract, Orange Zest and Sugar.

5. Add Oil and whisk everything together to form a frothy mixture.

6. Peel, core and grate apples and add to the wet ingredients.

7. Add dry ingredients to the wet ingredients and fold them using a spatula until every thing is moist. Also add the raisins and combine.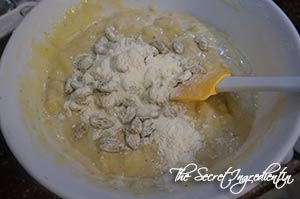 8. Preheat the oven on 350 degree Fahrenheit (Learn more about Oven temperatures and conversions). Grease a 9×5 loaf pan and line it with Oddy Uniwrap Parchment paper. Pour the batter into the pan and keep aside.
9. For the streusel or crumble in a bowl add cold butter cubes, all purpose flour salt and sugar. Using your finger tips or a fork combine them to form a crumbly mix.

10. Sprinkle the crumble on top of the bread batter evenly leaving no space.
11. Bake it in oven for an hour or until the toothpick inserted comes out clean without any wet batter. Let it cool down completely before slicing. Enjoy!
You can even try our Persimmon Rum Cake, Spiced Raisin Bread and Pumpkin Cake Rolls.
[whohit]AppleBread[/whohit]
[yumprint-recipe id='97']