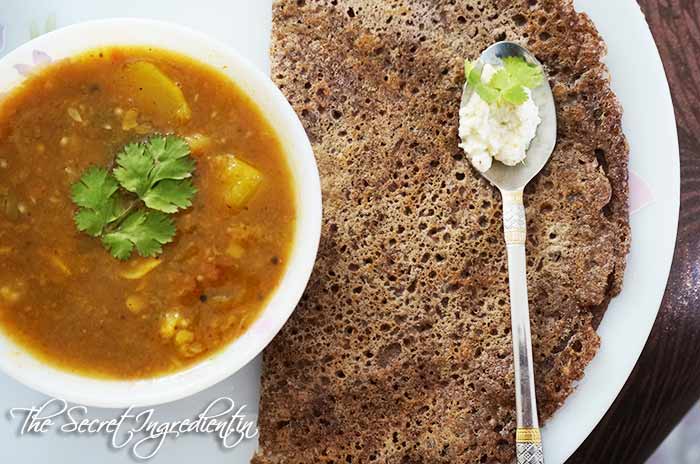 Finger Millet also known as Ragi or Manduwa or Maddua is a gluten free cereal which is very widely consumed in Uttrakhand where I live now. Other than Uttrakhand it is a popular millet used in South Indian Cuisine. It is a rich source of amino acid methionine.
In Kumaoni Cuisine Maddua plays a very important role for it is used in variety of dishes. It is also believed to keep you warm in thick cold. So I was tempted to try this super cereal and got its flour from the local market. I debuted my adventure with Ragi by making this Instant Ragi Dosa. I saw Malar Muthu's post one fine day and could not resist trying it. It was quick and required no fermentation. Luckily I had Sambar and Coconut Chutney to accompany this. The dosa came out crisp and so delicious. Even my kiddo loved them to the core.
Directions:
1. In a bowl add urad dal or split black gram. Add water and let it get soaked for atleast an hour.
2. Transfer the soaked lentils with little water in a blender. Make a fine paste.
3. Transfer the paste to a larger bowl and add to it. Ragi Flour and Rice Flour.
4. Add water and salt. Combine to make a dosa consistency batter. It should neither be thick nor thin.
5. Heat a flat griddle or dosa tawa. Add oil. Wipe it with a kitchen towel.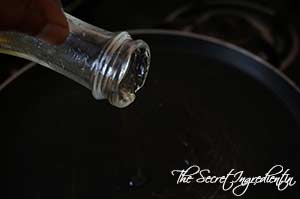 6. Add a ladle full of batter in the center and spread in circular motions evenly. Drizzle some oil on dosa and flip after 2-3 minutes. Cook on the other side.
7. Serve hot with Coconut Chutney and Sambar.
You can even try this dosa with Tomato Onion Garlic Chutney.
Other dishes from South Indian Cuisine which you can try here: Curd Rice, Quick Rava Idli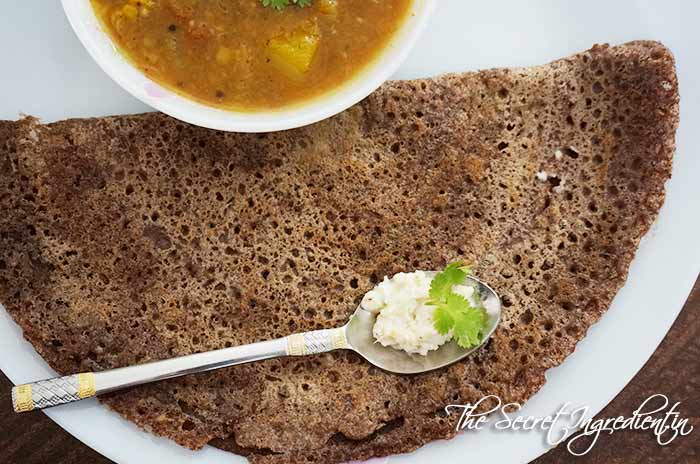 [whohit]RagiDosa[/whohit]
[yumprint-recipe id='129′]