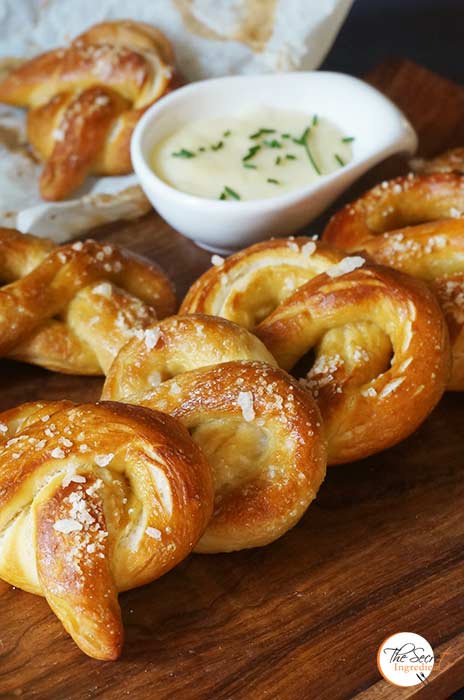 Making these Soft Pretzels on my bucket list for such a long time. I had seen this recipe of my Guru Laura Vitale ages back and I wanted to give it a try. So I was doing my weekly bread baking and made some extra dough which I could utilize for making soft pretzels for tea time. They were fairy easy and the out come was just mind blowing. They where crunchy on the outside but soft and gooey from the inside. If you are looking for snacking options to impress your guests your search ends here. Its the best snack ever. My kiddo tried them and says Mumma they are strange but quite nice! What else would you like to hear from your 5 year old sunshine.
I am making this soft pretzels which is different than those hard baked ones. This is to be consumed right after they are baked. However, the hard ones have a longer shelf life.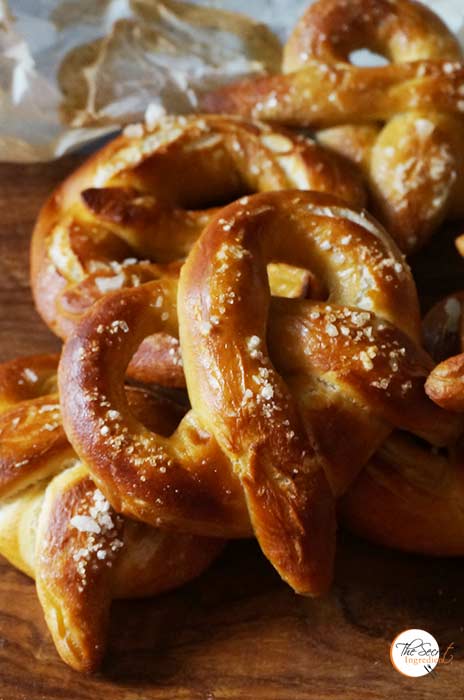 I did a quick cheese dip to go along these soft pretzels. It was easier and tastier than your imagination. I mean posting a separate recipe of this recipe is pure crime. So I'll be writing in this post only.
I have also been thinking to do a post where I can make a collective of recipes which can be made just with your pizza or bread dough. How cool would that be na? Write to me if you think I should go ahead with that!
Directions:
1. In a container take some lukewarm water. It should neither be hot nor cold, just hot enough to comfortably put your finger into it . The right temperature of the water is very important for yeast to activate. Put yeast into it.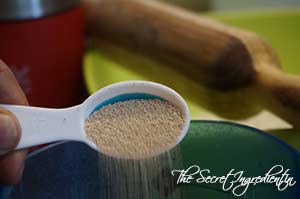 2. Along with yeast add some sugar.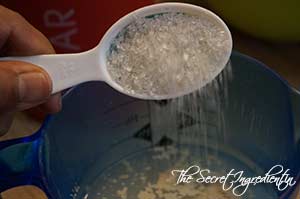 3. Give it a gentle stir with a fork and let the mixture sit and activate for 10 minutes or until you see some bubbles on top and mixture has become frothy and milky.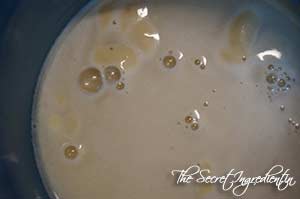 4. Take all purpose flour in a bowl and add salt and olive oil.
5. Add the proofed yeast to the flour little by little and mix till it comes together.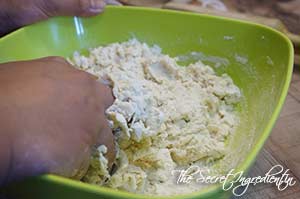 6. Bring the dough to a flat counter or your kitchen platform and knead for good 10 minutes till it becomes soft and supple. Read more about Bread baking techniques in "Basic Steps to Bake a Perfect Bread"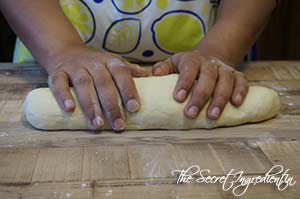 7. Transfer the dough to a greased bowl. And cover with a kitchen towel or cling wrap. Let it sit for an hour or so to double up in size.
8. Punch it down and deflate the dough. Knead for another 5-7 minutes.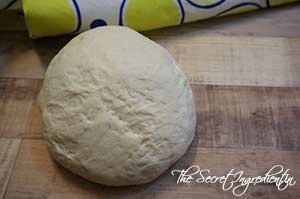 9. Divide the dough into 12 parts depending on the size of pretzel you are looking for. I divided the dough into two parts and with one I made my regular White Sandwich Bread and the rest I further divided into six. Cover them with a lint free kitchen towel till you work on them one by one.

10. Take one lump of dough and roll it into a thin stick or rope using your finger tips. You can dust your counter with flour so that nothing sticks to the surface. It should be relatively uniformly thick all over.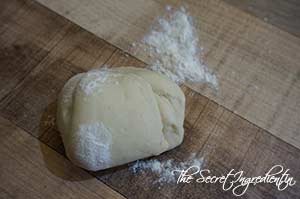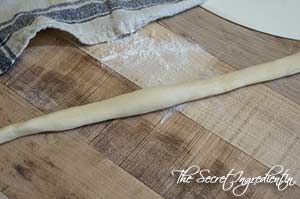 11. Place it on the counter and make a U shape. Take both end of the U and cross them in the center. Refer the images below. Repeat the same with rest of the dough.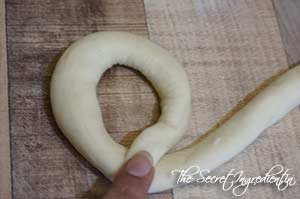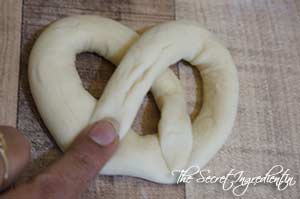 12. Line a baking tray with Parchment paper and place them on it. Cover them with kitchen towel till you give them soda water bath.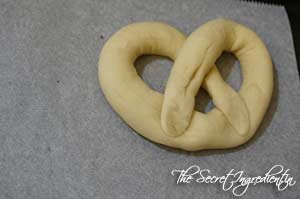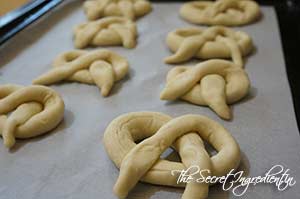 13. In a flat bottom pan add some water and give it a boil. Add Baking Soda and let it come for a boil again.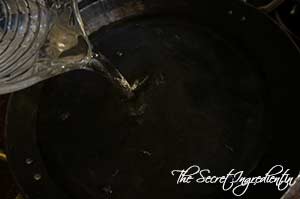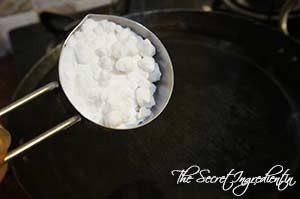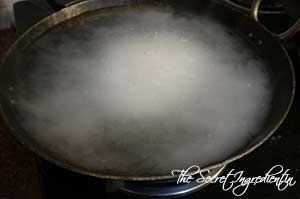 14. As soon as the water comes to a boil, drown pretzel dough into the soda water and give it a bath for 30 seconds each. You can do two pretzels at a time. This Soda bath will give it that crusty exterior and soft center.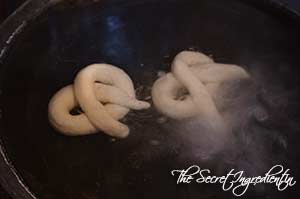 15. With a pair of tongs you can carefully remove the pretzel from the pan and place it back on the parchment paper. The quality of parchment is very important because a bad quality parchment will stick to the pretzel and will make everything messy. I use Oddy Uniwraps . It just doesn't let anything stick on it while baking. You can buy this from our online store, The Gourmet Shop.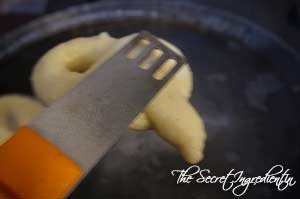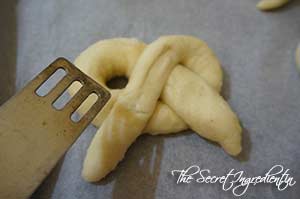 16. Add little water in the egg and whisk it well. Apply egg wash with a silicon brush.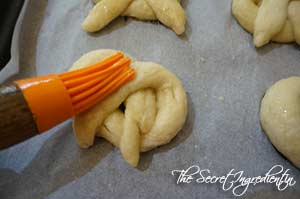 17. Sprinkle the top with coarse pieces of sea salt or himalayan salt.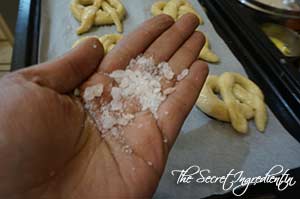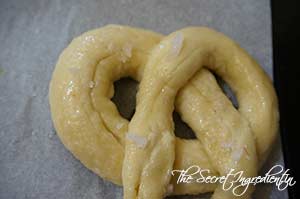 18. Bake it in the preheated oven for 10-12 minutes until it turns dark brown in colour. For the dip take cheddar cheese in a microwave proof bowl add some milk and microwave it for a few minutes until it has melted. You can add chopped chives for additional flavour.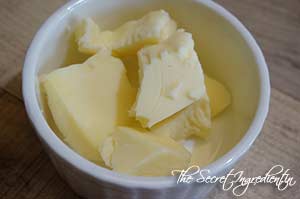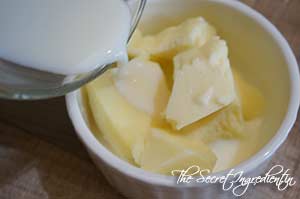 19. Serve these pretzels hot with these yummy Cheesy dip and you will be in heaven! You can thank me later 😉
Other Bread Recipes you can try are:Apple Cinnamon Swirl Bread, Pan De Muerto, Peter Reinhart's Potato Rosemary Bread, Italian Focaccia Bread with Strawberries, Pumpkin Buns, Stuffed Mushroom Cheesy Crack Bread, Stuffed Mushroom and Spinach Braided Bread, White Sandwich Bread, Whole Wheat Sandwich Bread Recipe, Strawberry Walnut Babka.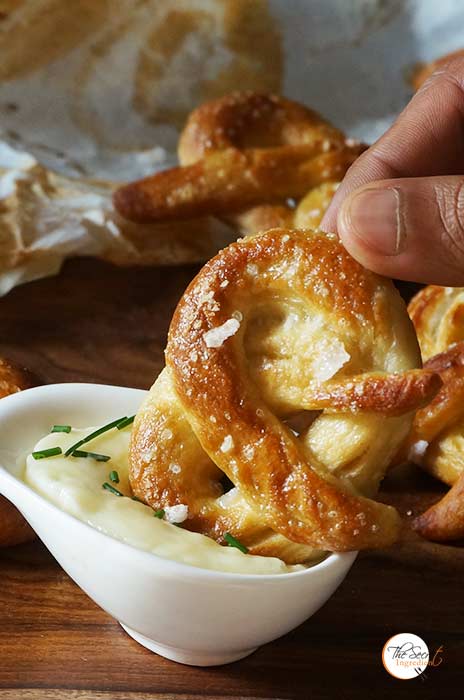 [whohit]SoftPretzels[/whohit]
[yumprint-recipe id='274′]