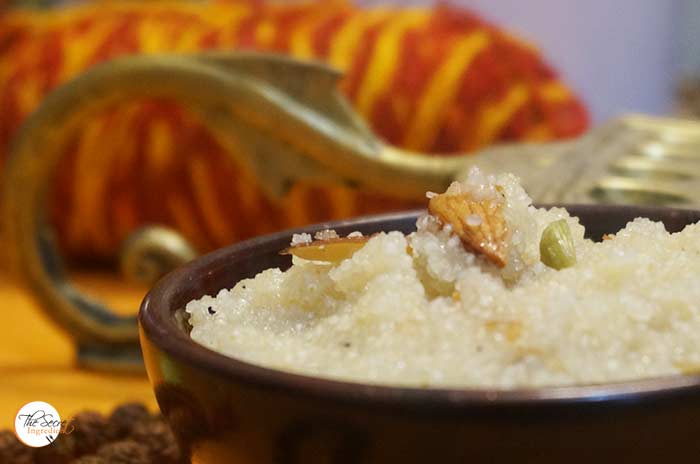 Barnyard Millets or Swang Ke Chawal are mostly used during the fasting period when cereals and other grains are abstained. Swang ke chawal is not rice but belongs to millet family. It is know by various names like, Samvat, Sama, Vari, Varai, Samwa, Jhangora, Samo, Morio, Mario, Moraiaya, Bhagar & Kuthirai Vaali. This cereal is gluten free and is usually cultivated on marginal lands where rice doesn't grow.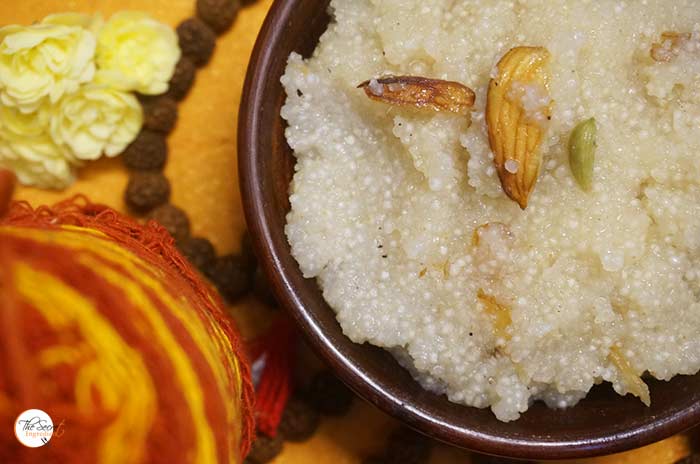 I shared my mother's recipe of Swang Ke Chawal ki Khichdi sometime back, which was well appreciated by all my readers. So I decided to share Halwa recipe with Swang ke Chawal. It is very easy to make, simply proportions have to be correct just like the Sooji Halwa. The texture of this halwa is a little grainy but that is the beauty of it 🙂
Directions:
1.In a wok add ghee also known as clarified butter and add Swang ke Chawal. Keep roasting Swang ke Chawal in ghee by continuously stirring it till it turns slight golden brown. Keep an eye and do not let the Swang ke Chawal burn.
2. In a separate vessel take water which should be four times the sugar. Add two opened pods of cardamoms and sugar. Give it two to three boils till the sugar is dissolved in water. We do not intend to make a thick sugary syrup, just some sugar dissolved water. Keep it aside.
3. In the meanwhile chop almonds and cashews. If you wish to use any other dry fruits you can always go ahead.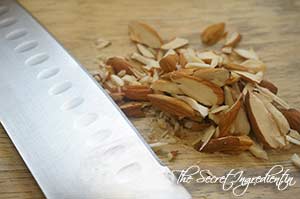 4. Add the dry fruits to the Wok to get roasted all with swang ke chawal. If you like you can roast it separately and then add to the wok.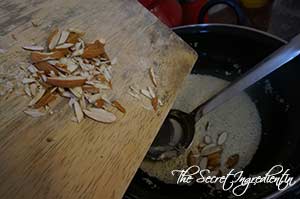 5. Now as your swang ke chawal are roasted add the light sugar syrup. Continue to stir so that no lumps are formed. Do not worry if you see the mixture has turned watery.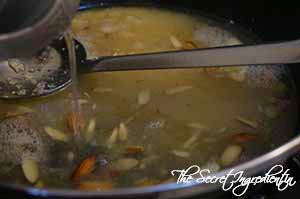 6. Keep stirring on high flame till it becomes dense and swang ke chawal has absorbed entire syrup. Keep stirring till you see halwa has left the sides and centered itself.
Serve hot.
You can try our other halwas like Sooji Ka Halwa, Kaddu Ka Halwa, Gajar Ka Halwa, Seb Daliye ka Halwa.
Other recipes for fasting you can try are: Healthy Kachalu Aloo Chat, Tangy Mint Potatoes, Khajoor Til Ke Laddoo, Vrat Wale Dahi-Paneer Kebabs, Swang Ke Chawal Ki Phirni, Tapioca Coconut Milk Pudding with Strawberry Preserve, Paneer Ki Kheer, Sabudana Kheer, Kaddu Ka Halwa, Sabudana Khichdi .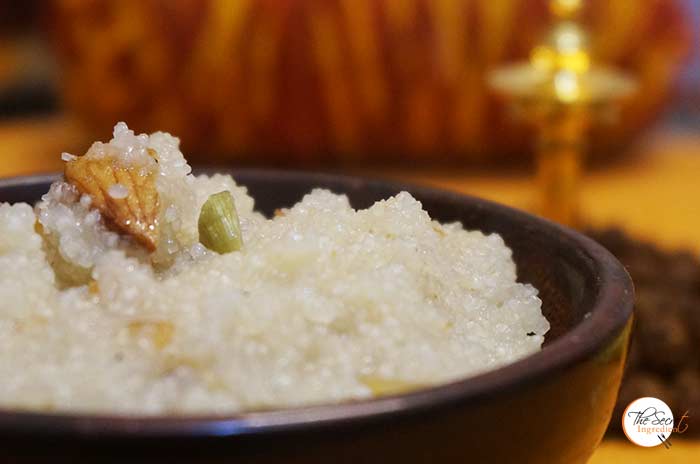 [whohit]SwangKChawalHalwa[/whohit]
[yumprint-recipe id='108′]