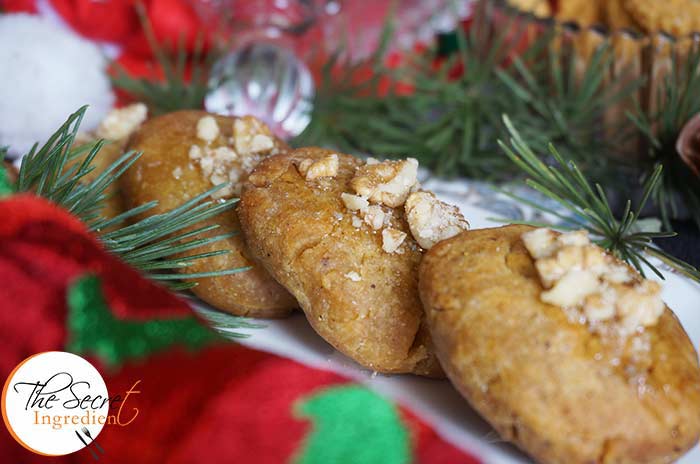 Its November end and Thanksgiving is over. I can feel the chill in the air and my nose turns red when I take my daily walk in the hills. I have soaked the dry fruits in Rum for the Christmas Cake, which officially means that Christmas has begun. Hurray!! now who can stop me from baking delicious cakes and cookies.
Incidentally, this months Spatula Force Theme Challenge was Greek Cuisine hosted by my Friend and Food Blogger Bhawna Pandey from Salt and Pepper . This motivated me to try the Greek Traditional Christmas Cookies Melomakarona. They are delicious, melt in mouth, egg shaped cookies with goodness of Olive Oil and Honey. They are Spiced with Cloves, Cinnamon and Orange Zest. Doesn't that sound very festive and christmasy?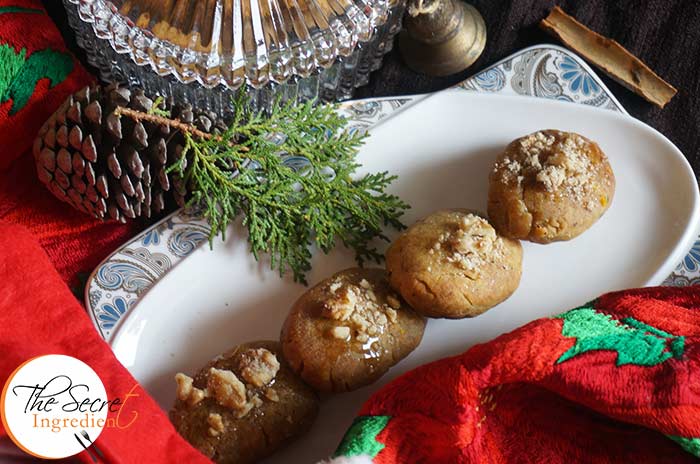 The baked cookies are dipped in Sugar Honey Spiced Syrup and finally glazed with Honey and chopped Walnuts. Ohh!! The taste is absolutely mindblowing and scintillating. You must try these to believe me 🙂 I loved to photograph these cookies and creating a little Christmas like ambience. Thanks to my friend Lily for the beautiful platter she gifted me on her visit. Doesn't that look amazing!
Directions:
1. Wash and dry a firm Orange and take out its zest, only the orange part using a microplane or zester.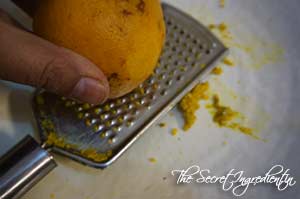 2. In a saucepan add some water and add to it lemon zest and orange juice.

3. Add sugar to the saucepan along with cinnamon and Cloves.
4. Bring the syrup to a boil and then simmer for two minutes. Turn the heat off and add honey and mix well till it is dissolved. Keep aside.
5. In a mixing bowl add Vegetable Oil, Olive oil and Orange juice.
6. Add to bowl baking soda and whisk together with the juice and oils. Let the soda react with the juice.

7. Add ground Cloves and Cinnamon and combine

8. Add caster sugar or icing sugar to the oil juice mixture and mix well along with orange zest. Add semolina and combine using a whisk.

9. Now add All purpose flour little by little and combine to make a smooth dough. Do not over work the dough.
10. Divide the dough into walnut size elliptical or oval shape balls and press them against a grater to get the pattern. Other wise you can use a fork to make pattern of your choice.

11. Place them on a baking sheet lined with parchment paper or silicon mat, with amble space between each cookie* and bake for 25-30 minutes on 200 degree Celsius in middle rack. Keep an eye after 25 minutes, for it shouldn't get over baked.

12. Immediately as they come out of the oven dip them in the syrup we prepared before for 20 seconds. You can use slotted spoon to take them out.

13. Let them drain and rest on a wire wrack. When they cool down drizzle them with Honey and sprinkle on top some coarsely ground walnuts.

14. You are ready to dig into them and make this Christmas more special and Joyous.
Other Cookies you can try on The Secret Ingredient are: White Chocolate Chip Cookies , Ragi & Whole Wheat Biscuits, Coconut Chocolate Cookies, Peanut Butter Cookies with Chocolate Chips and Italian Almond Biscotti.
If you are looking for Delicious Cakes and Sweet Breads: Apple Raisins Streusel Bread , Chocolate Vanilla Marble Cake, Eggless Almond Vanilla Cake, Eggless Orange Cake with Candied Orange Peel Filling, Lemon Cake with Lemon Glaze, Persimmon Rum Cake, Pumpkin Cake Rolls , Vegan Chocolate Banana Cake, Wacky Vegan Chocolate Cake , Whole Wheat Vegan Banana Bread with Melon Seeds.
Other Greek Cuisines from my fellow Bloggers participating in this challenge are: Spanakopita Triangles or Greek Spinach Pie by Binjal Pandya from Binjal's Veg Kitchen, Baklava by Pooja Khanna from 2Bliss Of Baking.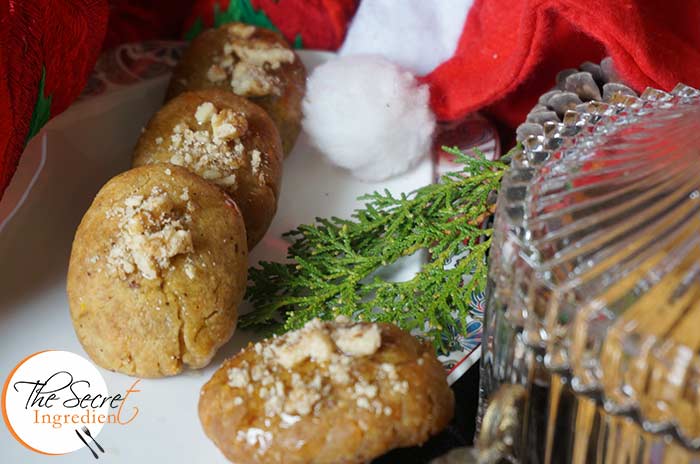 [whohit]Melomakarona[/whohit]
[yumprint-recipe id='182′]